Scroll down for a 3 minute video tour of our Seaside Campus.

The Academy is currently focused on the following projects:
FineDay TIME TRAVEL
We help create the future with love by building video "time travel" trips to preview important upcoming events for various humanitarian groups at FineDay Time Travel.
FineDay HISTORY
FineDay presents Points in Time, an educational project building on history quiz questions developed with the help of FineDay Patreon members.
FineDay CAFE
The FineDay Cafe is the landing site in the present for time travelers on their way to the future in FineDay Time Travel videos. Celebrations and other events are held in the cafe. For example, Karaoke will soon be available for you to sing along with various groups and vocalists performing their version of the FineDay international friendship song, "In Between In Every Way."
FineDay WRITING
In the fiction category, the FineDay founder David Watkinson is writing a screenplay and online sci-fi series, which is related to his work in the non-fiction category.
In the non-fiction category, David is producing a video series based on his work with scientists using quantum physics experiments to investigate the theory that we're living in a consciousness created virtual reality simulation.
David was honored to be credited as a co-author of the paper that started the experiments along with two NASA physicists and a CalTech mathematician: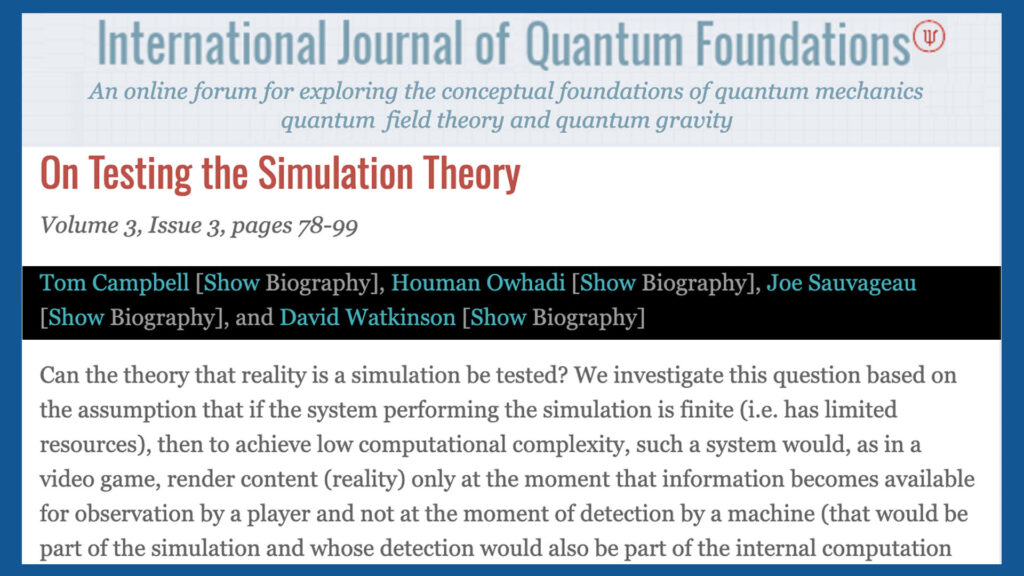 Also in the non-fiction category is this very short picture story about events leading up to David founding The FineDay Academy: "About MAIN STREET MULTIMEDIA Kind of a Cat Tale."
And here's more information about the Academy's Mission, Guiding Principals and Founder.
This is a 3 minute video tour of the Academy's Seaside Campus: